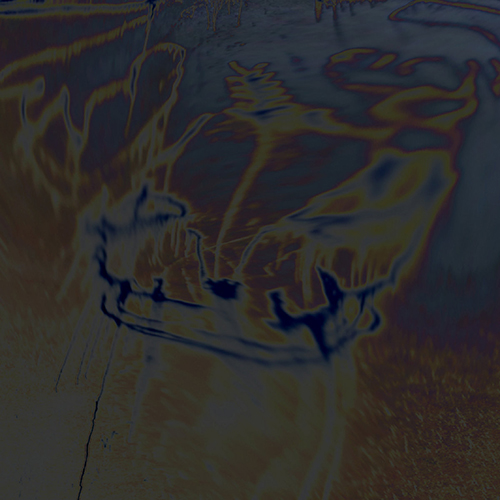 Dana Rosa
hunterc44t & Finlay Clark
Dana Rosa
is the latest record on
Primordial Void
. It's a joint project from collaborators
hunterc44t
(Vera Karlsson) and Finlay Clark (
stillhouseplants
) containing four perplexing tracks. The artwork perfectly encapsulates these tracks, and I guess you can interpret that however you want.
They're all very otherworldly tracks that steer you across realms unexplored. Frequencies percolate through the surfaces of your ear drums, vastly expanding your senses. You're sort of creeped out but at the same time relaxed because there's something slightly comforting in the atmosphere.
The misdirection is dizzying but you end up finding your bearings which are scattered across a room of mirrors. You look inwards and you look outwards but what's the point, they merge into one direction anyway. Yes, this is temporary but do you really want it to end?
It was a shared studio in south London. The glass ceiling drank in the sunlight and held its heavy pregnant body suspended, buoyant, in the air. There were gaps in the broken bricks and glass that allowed a corporeal torrent of dried, anfractuous brambles and ivy to dominate the airspace like blind aliens. Birds fed their young in the nest situated amongst the drill bits. The young were soon starved to death by the occupant cuckoo that also hatched there. The coffee was so strong that it seemed to push the sweat out and the heavy air held my hand like a lost child looking for someone, anyone, in this tired and incessant oblivion.